YOUTHS & TEENAGER SELF DEFENCE MARTIAL ART CLASSES
Frome & Glastonbury - Somerset
These classes are for the ages 15 - 18 years. The ages are used as a guildeline and acceptance into the class is based on our discretion of a students conduct in a class. Teenagers grow up quicker in the modern world and are exposed to many things that we remember as adults happened later for us. As such the full self defence syllabus is available to this age group to help them be prepared for the danger than can be in the today's world. They are taught all 4 intentional responses, therefore the training here is more serious and a better standard is expected. They are awarded belts and there will be specific grading tests where many of the students will grade all together.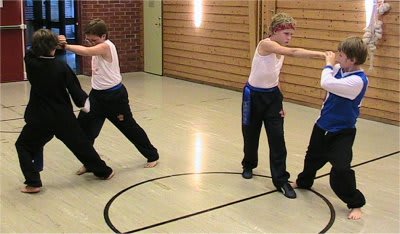 Teaching Focus
Classes are friendly but serious. We want the student to enjoy the training and also understand why they are learning and what it is for. All training etiquette should be upheld and here training exercises will be used more for inappropriate conduct. Students will practice physically with each other, holding striking pads, there will be more education on danger awareness and safety striking as teenagers will find themselves in more varied situations as they engage in life. Adrenalised training will also we used more often appropriate to the student. The focus here is on instilling discipline leading to self discipline and respect and looking at the bigger picture of Modern Warrior Training.
Benefits of Training
Keep them fit and strong as much leisure time can be spent infront of a screen
Skills to defence themselves or others
Sense of pride in setting long term goals and working progressively towards them
Know how to navigate in the outside world with confidence and safety
Become used to pressurised situations and keeping your focus

Class Locations
Modern Warrior Training currently have Teenager Self defence classes in the following locations. Click the links for more information.
Joining A Class
If you want a trial class then please Contact us. We would like to hear about the age, experience of your child and book a session for them to try.