JUNIOR SELF DEFENCE MARTIAL ART CLASSES
Frome & Glastonbury - Somerset
These classes are for the ages 5 - 8 years. The ages are used as a guildeline and acceptance into the class is based on our discrestion of a childs conduct in a class. Children are taught the syllabus appropriate to their level. Rather than having regular belt gradings, the students are awarded badges of skills that they have acquired to standard. Badges represent techniques, milestones in exercises, good conduct and defending themselves in common attacks. These badges are sewed onto their belt as they progress.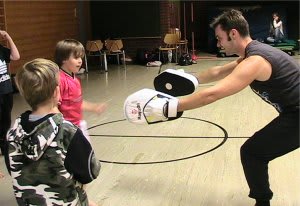 Teaching Focus
The classes are taught in a fun positive manner whilst learning and practicing etiquette. Games are used a lot to teach and develop skills and motivate students. There is minimal physical contact between students for safety reasons. Pads are used and held by the instructor. We aim at this age group is to help then coordinate their bodies, learn about training and defend themselves with the 1st intention of Deflection & Distance. At this young age their best course of action is to escape any conflict as most aggressors will be bigger than them, going toe to toe is not the best option. They are taught basic danger awareness and how to seek help in difficult situations. At all times your childs safety is first and there are frequent water breaks. The focus here is on good learning focus, concentration, and building the foundation of physical skills.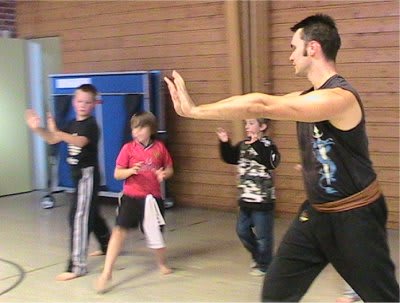 Benefits of Training
Your child gets used to coordinating their rapidly growing body
Positively channel any excess energy they many have
Teaching them how to behave in an education setting
Build your child's attention span and their ability to focus and concentrate.
Give them skills to stand up for themselves.
Reinforcing the rules of what if things go wrong and your on your own.
Class Locations
Modern Warrior Training currently have Juniors Self defence classes in the following locations. Click the links for more information.
Joining A Class
If you want a taster class then please Contact us. We would like to hear about the age, experience of your child and book a session for them to try.