ADULTS SELF DEFENCE MARTIAL ART CLASSES
Frome & Glastonbury - Somerse
These classes are for the late teens and adults. Past 18 it all gets very serious very fast. Although the full self defence syllabus is available here we focus a mostly of the intentions Disarming and Disabling and Striking and Stopping. It's all about survival where the threat is from another adult or group of adults. The emotional triggers of pride, desperation and revenge, also the influcences of drugs and alcohol mean the threat here is stronger with greater consequences. A person in a violent rage rarely knows how much damage they are doing through their agression. Attacks can often result in hospitilisation and sometimes death. For women (and sometimes men) there can be added treat of sexual assault. Weapons are more common in adult assaults as is robbery and group attacks. If you are intenting on going travelling then some self defence skills would be recommended.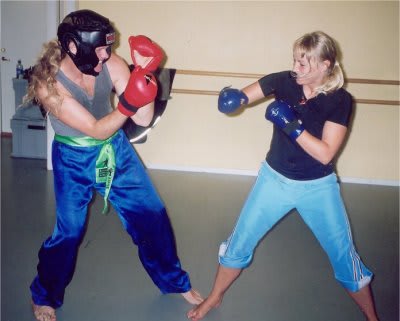 Common Attacks To Men & Women
Research has shown that the most common attacks to women come from behind and often involved grabbing. For men they are often head on (face-to-face) and involve striking to begin with. To give a student the best chance of overcoming an attack we will train the situations that a most relevent to you.
Teaching Focus
Classes are friendly but serious. Training is always fun, but as the situations are serious there is a lot more focus on technique and fitness. Addrenalised training is used each lesson. There is Padwork and sometimes sparing between students. We talk about scearios but adults have more life expereince and sense so there is not so much play acting to explain. There are lots of practicing with each other and ramping up intensity. Students are also taught the Law in regard to self defence some hopefully from any enocunter you saty on the right side of it.
Class sizes are limited to maximum of 6 students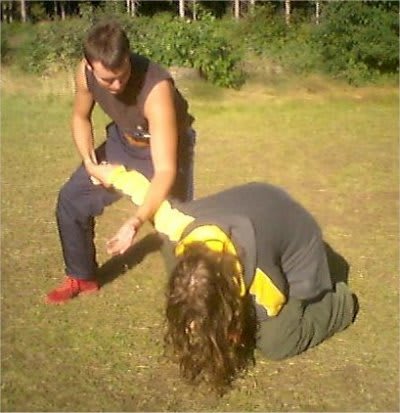 Benefits of Training
Skills can literally save your life!
Skills to save the life of others.
Fitness, Strength, Stamina & Health
Confidence in your daily life
Confidence in protecting your loved ones.
Fun, Joy & good times training
Class Times & Cost.
Modern Warrior Training currently have adults Self defence classes Mondays: 19:00 - 20:00. Cost just £6 per class. You can pay cash on your first visits, and if you want to commit we ask for a regular PayPal subscription. If you still want to come to class but cannot attend regualr lessons then we can come to a special arrangement.
Class Locations
Modern Warrior Training currently have Adults Self defence classes in the following locations. Click the links for more information.
Joining A Class
If you want a trial class then please Contact us. We would like to hear about your experience and reasons for learning. We are always interested